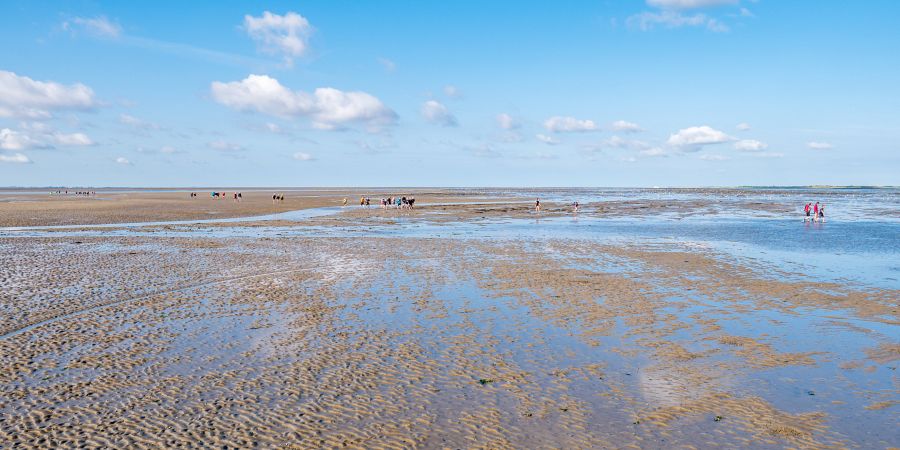 The Wadden Sea
The Wadden Sea, with Rømø being one of its most beautiful highlights, is a remarkable natural experience of international significance. This unique ecosystem is recognized as a UNESCO World Heritage site due to its outstanding biological diversity and geological importance.
The Wadden Sea around Rømø offers a fantastic range of experiences and natural beauty. The rich and fertile muddy bottom is home to an incredible number of animal species, including thousands of wading birds, seals, fish, and worms. It is a paradise for birdwatchers and nature enthusiasts who can explore the fascinating bird migrations and observe rare bird species.
You can experience the Wadden Sea by participating in guided walks or bike rides through the landscape. This allows you to get up close to the unique ecosystem, learn about its significance for bird migration, and witness the tidal phenomena that create a constant change in the landscape.
For the adventurous, there are also opportunities to try activities such as wading through shallow areas or joining an oyster safari, where you can collect and taste fresh oysters directly from the Wadden Sea.
The Wadden Sea is also an ideal place to enjoy peace and tranquility and reflect on the power of nature. Take a quiet boat trip along the canals that stretch through the surrounding landscape and admire the beautiful and changing light reflecting in the water, creating picturesque scenes.
Whether you're interested in birdwatching, ecosystems, or simply want to immerse yourself in the wonders of nature, the Wadden Sea around Rømø will offer you a unique and unforgettable experience where you can connect with the incredible beauty and dynamics found in this extraordinary environment.